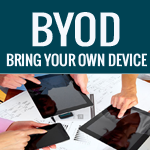 BYOD (Bring Your Own Device) is a new
term used to describe a trend where
employees and students are bringing their
own personal devices to the classroom
and the workplace.
Better work-life balance, greater innovation and improved
productivity are just a few of the benefits of BYOD
Although it exerts greater pressure on IT security
and requires devices to adapt a specific communication
channels and storage formats, BYOD has proven to be
the future of devices usage in the classroom and work place.
With the techno-savvy generation of today which heavily
relies on media in almost every aspect of their lives,
BYOD has been an agent of change that has transformed
the classroom into a friendlier place for learning and made
it a more familiar place for students to be.
BYOD presents new opportunities for the Y Generation,
also known as the Millennial Generation or the Generation of Y learners.
Studies have shown that the current generation heavily relies
on Smartphones and wireless devices to spend time, communicate,
get news and do their homework and assignments.
Educators have made the right move to embrace this and use it to
their advantage rather than fight it.  According to Millenias:
A Portrait of the Next generation, 81% of Generation Y prefer to
be connected wirelessly and 73% uses social networks
to connect and interact with others.
C&R market research on the other hand discovered that more students today
own cellphones earlier in life.  22% of them own a cellphone between ages 6 and 9, 60%
between ages 10 and 14 and 84% of teens between 15 and 18 own cellphones.
Since a majority of the students own cellphones by the time they are in high school,
educators have turned it into a valuable resource that can be used in class –
much like pens, books and calculators.  It may have taken some time before
the BYOD trend was accepted but its popularity and acceptance is growing.
See the article: Upsides of BYOD in Education
Upsides of employing BYOD in the Workplace
Just like in education, BYOD can provide all of these benefits as well in
the workplace.  Having a BYOD Policy will afford employees the freedom to
work remotely, and increases the flexibility of your workforce.
Are there any Downsides?
However it is important to assess and manage the risks before giving
employees free rein to link their devices to company network.
It is yet to be seen whether or not the BYOD will be a major feature of the
future mobile workforce, the current trend suggests that this phenomenon is perhaps
here to stay and that IT Managers need to be proactive in their approach to ensure
its smooth implementation for everyone's benefit within the particular organisation.