When assembling a sales team, business owners and managers look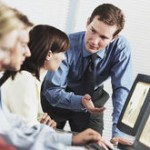 for people who have the traits of successful salespeople. For instance, candidates who are outgoing and think on their feet will seal more deals than introverts who struggle to make a decision. Even when the ideal candidates are found and hired, this in itself is not enough to ensure success.
That's where sales training comes in. Done right, it provides the skills average salespeople need to become great and best sellers to be even better. It's also an opportunity for managers to communicate their organisation's philosophy, goals and long-term plans to the people who will be on the front line interacting with the customers.
Without training, your sales team is on its own and is unlikely to be as productive as they could be. If your goal is greater productivity, sales training is a must.
Here's a look at the opportunities created by sales training – and how successful teams benefit:
Communicate your goals
Whether your organisation is conducting training internally or hiring an outside firm, never lose sight
of the fact that the purpose is to provide team members with information they need to do their jobs
effectively. You'll want to convey your organization's sales philosophy, goals and historically successful
strategies. Let the team know that you trust them to make decisions on their own but be sure they
know when to raise questions to managers. Provide real-life scenarios. In today's fast-paced business
environment, you do not want your sales team wasting time by escalating questions unnecessarily.
At the same time, you do not want to encourage maverick behavior when issues need to be raised to
higher levels of your organisation.
Inspire your staff: Sell your Sales Team on the Business
For your team to sell your products effectively, they need to be sold on your business. Sales training is
the perfect opportunity to do that. Invite the senior management to meet with the team
and talk about the organisation's history, philosophy and mission. Be sure to prepare the executive
thoroughly before the session, and leave plenty of time for questions and answers. Such a meeting can
have the opposite of the desired effect if the executive comes unprepared, or leaves without interacting
with the team.
Share Strategies
Devote time during sales training for team members to share their successful strategies for sealing the
deal or upselling customers. Prepare for the session by identifying two or three team members who can
get the conversation started. Make sure they have some ideas to kick off the discussion.
Bond the Team
Sales training that brings your team together is an opportunity for everyone to share ideas, strategies
and even frustrations. The best bonding, however, usually takes place outside formal sessions. Be sure
to schedule plenty of time for informal conversations and get-togethers. Lunches and dinners are a great
time for mingling and exchanging ideas. If you're a business owner or a manager with a budget, consider
picking up the tab – both to boost attendance and demonstrate your commitment to the team.
Stay Organised and Measure for Success
A poorly organised sales session will have the opposite of the desired effect. Rather than leave inspired,
participants will feel like their time has been wasted. It will also reflect poorly on the company.
When organising a sales training session, have a plan. Share the agenda with participants on the first day and stick to it. Also, while the training is still being planned, chart out exactly what you hope to achieve and how you will measure its success.
Consider looking at key metrics – such as sales – and whether they change in the weeks and months after
the training session. Also, be sure to survey your team and ask them directly if they found the session helpful. Solicit their ideas, too. Before you know it, you'll have enough information to begin planning the next training.
Ultimately, a successful training program will not only boost sales but also show the organisation's
commitment to its employees and its business. The sales team is a critical part of your organisation's
success. Regular and well-organised training sessions will not only help develop the skills of your
salespeople but also demonstrate your company's commitment to this group.
Thanks
The BSN Team