With the growing popularity of Smartphones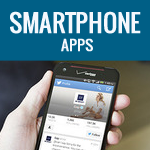 they have become a popular target for malware
manufacturers, therefore it's imperative to install
security apps to protect your data etc.
We have collected a list of 9 security tools that will help
you to safeguard your Smartphone from various
threats and also minimize the effects if they are
stolen or misplaced.
The list in no particular order:-
1: McAfee: – McAfee protects your personal data and extends the device's security
by allowing you to track / locate your Android device. With an easy-to-use web
interface, it enables you to backup/Restore your data to the device easily.
2: GadgetTrack: –
Advanced Theft Recovery Software To Prevent  Theft –
will spring to life and generate location reports, including map points,
longitude & latitude and IP address to help you pinpoint your lost device.
3: Snap Secure: – This tool enables you to securely back up your data to your online account.
You can access, restore or transfer data to a new device whenever you needed.
4: MSecure: – mSecure protects your Web logins, Credit Card Numbers, Passwords and many
other confidential information, when your Android device is lost.
It is one of the best secure detail managers available on the market.
5: Avast! Mobile: – Avast comes with some very effective features which include: Privacy Advisor,
Web Shields, Apps Management, Virus Scanner etc. It helps you locate your lost phone through a
very impressive web-based phone locate feature.
6: AVG AntiVirus:-This tool helps you to detect and remove viruses and malware from your
Android Smart phones & Tablets. Also, it improves performance and monitors your data usage.
7: BullGuard: – With BullGuard Mobile Security Manager you can remotely access
your smartphone which works with GPS of your devices.
8: Find my iPhone : – Track down your lost iphone via Apple's website or from
another iOS-based device with this finest App.
9: Lookout: – Protect your Android device or iOS from mobile threats with this free App.
You can also use it to restore your device in case of a crash or data loss.
You will get features like safe browsing, remote locking, privacy scans and
phishing protection with this App.
We hope you find these tools of value
Thanks
The BSN Team