Being able to manage your website content in-house is the key to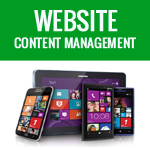 your online success.  When it comes to selecting a website content
management system, there are plenty of options available
in the market today .

We have collected 10 of the most popular website content management systems for you,
which are worth looking at, note these are in no particular order:-
1: WordPress: –
WordPress started as a simple blogging platform back in 2003. Since its introduction
only a few short years ago, it has grown into the web's most popular content management system (CMS).
Today WordPress powers one of every 6 websites on the Internet, nearly 60 million
in all, with 100,000 more popping up each day.
2: CushyCMS: – It is very simple content management systems, with unlimited
users and unlimited sites. It is free for anyone, even for professional use
3: Drupal :- Drupal is another most demanding CMS available on the market
Drupal's optional modules add lots of interesting features like forums,
profiles, user blogs and more. It also has very large and active community.
4: MODx: – With MODx, you can control your online content.
You can build sites exactly the way you want to build them.
5: Joomla: – In terms of functionality, Joomla is very advanced CMS. It is very
similar to Drupal and meant to work on common shared hosting package.
It enables you to build Web sites and powerful online applications with its easy- to- use features.
6: ExpressionEngine: – This content management system empowers thousands
of individuals and companies to organize and manage their website.
Its flexible features are worth looking.
7: TYPOlight: – TYPOlight ranks with Drupal and ExpressionEngine, in terms of its
functionality and with its thoughtfully organized backend. It could be a great fit, if you
want to build websites with advanced functionality and little extra programming.
8: SilverStripe: –  SilverStripe is unique as it was built upon its very own PHP framework named Saphire.
It enables developers and designers to customize the administration area for their clients.
It also provides native SEO support.
9: Alfresco: – This easy to install CMS enable you to drop files into folders and turn them
into web documents. It is more for enterprise needs rather than for simple sites.
10: Frog CMS: – It provides simple user management and permissions tools required
for file management. Frog CMS is a PHP version of Radiant CMS.
We hope you find these applications of value
Thanks
The BSN Team