Google+ has received a major revamp and upgrade in recent weeks,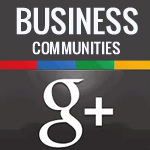 and is now a great Business Networking tool.
There are over 190 million people active on the Google+ and
many of these are business of all sizes who are actively engaging
in various new Google+ business communities.
With this in mind we have listed here some of the top business communities
to be found on Google+. So why not join one today.
The Top Business Communities on Google+ include :
1: Building a company
Discuss culture, Tools, Business plans, Funding.
Anything that goes into building a company.
Approx 24,500 members.
2: Entrepreneurs, Self-Employed & Small Business
for entrepreneurs, small business owners, start up founders and the self employed.
working to build a global community of entrepreneurs cooperating for mutual benefit.
Approx 18,700 members.
3: Good Business
Based on the idea that business can be a force for good in the world.
Explore the real challenges of running companies that balance people, mission and money.
Approx 9,200 members.
4: Entrepreneurs / Self Employed Community
For all those who are entrepreneurs or self employed.
Approx 3,200 members.
5: Social Media Marketing for Business Owners
Place to connect, communicate and collaborate about your business as you are using
social media to grow your visibility.
Approx 2,900 members.
6: LinkedIn for business
People who love spending time on LinkedIn to expand their network, increase leads,
drive more sales, and achieve their business goals.
Approx 2,700 members.
7: Home Business
Sharing stories about starting or setting up a home business.
Approx 2,300 members.
8: Small Business
For Small Businesses to share ideas, collaborate, and get answers to their questions.
Approx 2,000 members.
9: Social Business
Conversation, Cooperation, Collaboration, Creativity (From Social to Open Business).
Approx 1,600 members.
10: Business Consulting
Foster connections with like minded professionals in the Sales, Business Development,
Marketing, Demand Generation, Operation Management etc. in all sectors of companies.
Approx 1,500 members.
Our new Business Community:
Also as Google + has also placed a significant emphasis
on using hash-tags to categorize their content just like twitter,
our existing regional Business network hash-tags ( #USBiz #UKBiz )
will be a perfect fit and will help our followers on this new
and fast growing Business networking channel using our
existing established hashtags.
So what are you waiting for?
come on over and join us on Google plus in the
New Business Support Network community here


Regards
The Business Support Network Team